How do expert carpet cleaners take care of pet urine stains?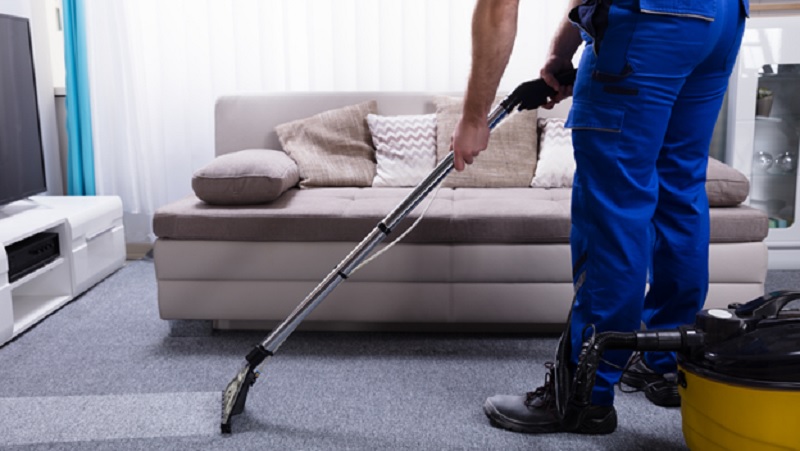 Many families wouldn't be complete without their four-legged companions, but it's important to remember that when individuals have pets at home, upholstery items like couches and carpets take a beating. Carpets, in particular, are made to absorb everything in the air, including dust, pollens, airborne contaminants, and pet hair, with pet urine being no exception. Pet pee can cause the carpet's layers to disintegrate, allowing the backing material or padding to separate. Pet pee has a strong odor, which encourages your pet to urinate in the same location. As a result, treating pet urine as soon as possible is crucial for the optimal upkeep of your carpets.
While most liquid spills can be dealt with at home, pet urine on carpets necessitates the help of qualified and experienced cleaners. Regular cleaning is inadequate in restoring surfaces that have been damaged by pet urine. Experts cleaners can efficiently & effortlessly deal with pet pee on upholstery items, with their help you can shield your carpets from fabric decay as well.
What do experts use for pet stain removal?
Professionals utilize high-quality bio-enzymatic urine removal products to clean carpets of all feces, urine stains, and odors. During the carpet cleaning brisbane process, they use mechanized equipment and IICRC approved eco-friendly surfactants to substantially limit the chance of harm to your carpets. Because the products used are plant-based, you don't have to be concerned about your family's or pet's health. Because these surfactants are non-toxic, they will not affect your carpet fibers either.
How does pet urine stain removal treatment work?
A professional pet carpet cleaner will first use a special ultraviolet light to inspect your carpets. This aids in the discovery of any problem areas or urine deposits that may not be obvious to the naked eye.
They then use the Hot Carbonating Extraction cleaning method to extract any liquid or loose urine crystals from the carpet.
After that, a generous application of an organic pet urine removal cleaning solution approved by the IICRC is made to the afflicted area. This solution penetrates the carpet pad and even the subfloor, allowing it to reach regions where traditional cleaning products and methods cannot.
Steam heat is pumped into the carpets to kill germs and bacteria that have grown as a result of the pet urine. This step is optional, however, it helps to thoroughly clean and disinfect the carpet by deep cleaning every single fiber.
Finally, specialists rinse the carpet to remove any remaining solution or pet odors and then dry it with a dehumidifier so it may be walked on.
Making the carpets smell good
Simply removing pet stains is insufficient, which is why experts recommend deodorizing carpets after carpet cleaning Melbourne. Apply deodorizers to the carpet after removing all moisture and chemical residues and allowing it to dry naturally. Ammonia in pet urine irritates the lungs, resulting in an undesirable living environment. If you don't deodorize your carpets, your pets will urinate in the same general area again and over again, causing fabric degradation. As a result, if you want a sanitary and fresh environment in your home or office, pet urine odor treatment is a must.
Facts you should know about pet urine penetrated in carpets:
The urine put on the carpet does not stay there; it penetrates the fibers and contaminates both the carpet backing and the flooring beneath it.
Urine odors can come from the floor, whether it's cement or wood, the tack strip, and even the house's framework underneath the walls.
Uric acid crystals are particularly insoluble and remain strongly linked to the surface; even if you clean them at home, any moisture will cause them to regenerate.
The acid levels in the pet urine rise as time passes before it dries. Urine is a breeding ground for dangerous pathogens that could endanger the health of your family.
The liquid in the urine evaporates as it dries, but the urine crystals get more concentrated and smelly. Pet urine on carpets causes discoloration as well.
Allowing your pets to relieve themselves outside or in a clean litter box is the easiest method to avoid pee stains on carpets. In the event of an accident, though, make sure to seek carpet pet removal perth. Professional carpet cleaners will remove carpet sections and clean the underneath of the carpets instead of simply the top. They are well-trained and have the necessary equipment to complete the job efficiently. Allow your pets to walk on carpets, be cautious, and engage professionals in the event of an accident to create a healthy and comfortable environment for your entire family, including your furry companions.