How to Remove Hard Water Stains from Fabric Sofa?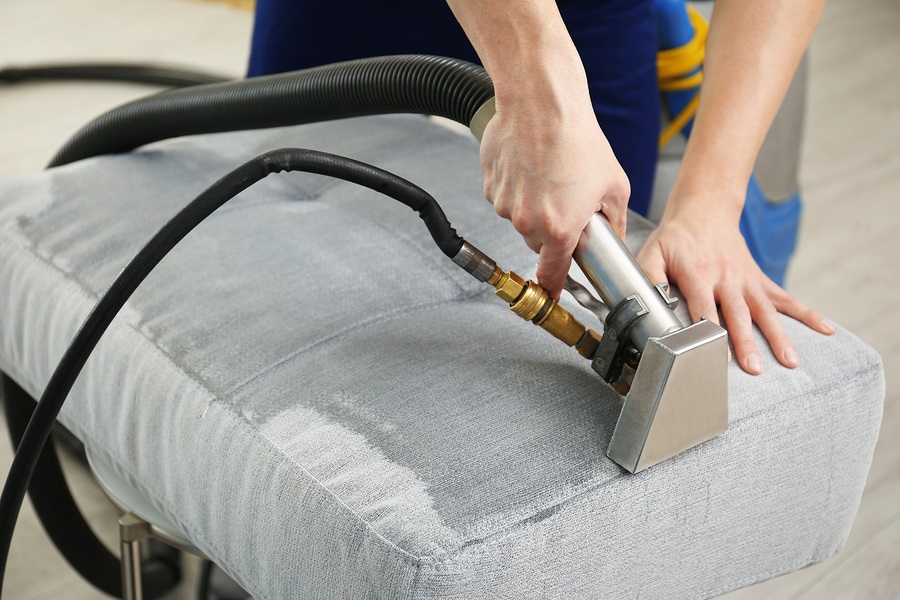 After a social event on your premises, you often find spillage and stains on fabric couches and carpets. Do not worry! Because in this article, you will get detailed information regarding fabric water stain removal. Whether you are a commercial or residential property owner, the lounge receives the maximum foot traffic in a day. That is why you have to maintain it properly. A couch cleaning Sydney service provider will help you to remove stains and dust with advanced treatment. However, if you want DIY remedies, please read this article.
How to Remove Water Stains from Fabric Couch?
Do you know that clean water does not leave stains on fabric or leather surfaces? The stains are mainly caused by chemical blended water. The minerals and chemicals of water create stain marks due to oxidation.
You should remove it as early as possible because if you neglect it may form rust-coloured marks on the fabric, which will be tough to remove with home remedies.
Tips to Remove Water Stains on Your Couch
Experts use different non-chemical-based products to clean the surface. However, the product will depend on the material of the furniture. You can follow any of the following remedies, but please ensure you have done a pretest to check its effectiveness on the material.
Dry Cleaning Liquid  
Indeed, you can buy a dry cleaning liquid from the market, but you should consult with an expert before buying any product. The products may have inflammable ingredients, which are harmful to human beings, so use protective gear and keep your kids away while conducting the process in your lounge.
An expert couch cleaner in Sydney prepares the liquid using their certified chemicals. That means if you hire an expert, you do not need to spend on regular cleaning liquid. However, please read the Instruction manual while conducting the process without the guidance of an expert.
Baking Soda and Vinegar Solution
Sodium Bicarbonate and vinegar are time-tested solutions against stains and germs. You have to prepare a paste using two tablespoons of vinegar, two tablespoons of baking soda and water. After that, apply it with a microfiber cloth. It is also effective against foul smells and tough stains.
Couch Cleaning Sydney experts suggest water-based paste to remove watermarks. Now one question may come to your mind-
Why Do Couch Cleaning Sydney Experts Use Water to Clean Water Stains?  
Experts mainly use distilled water that does not contain minerals such as copper, iron, and manganese. However, in DIY solutions, you can use water, but experts always suggest drying the area properly because unclean water may create severe watermarks on the affected area.
The water stains are not stubborn, so you do not need harsh chemicals to prepare a solution. You can easily clean it with the above home remedies.
How Can You Clean Your Couch Without Getting Watermarks?    
You should prefer DIYs as a primary cleaning method, but if it does not work, you should get the help of an expert. However, during the process, please do not oversaturate the area with excessive moisture because it leads to dampness and mould growth.
Baking soda and vinegar are applicable for all fabric materials. There can be a difference if you apply chemical-based solutions. You can use solvent-based remedies like isopropyl liquid for some fabrics. Most fabrics come with a 'W' and 'S' care code. 'W' care code is suitable for water-based remedies, and 'S' is suitable for solvent-based remedies. That is why you should consult with an expert before applying liquid solutions.
How Do You Get Water Stains out of a White Couch?
It is tough to manage a white couch especially made of silk or wool. These are more susceptible to water damage. You can use a furniture cover during a social event to avoid spillage. Otherwise, you can try baking soda paste to remove the stains.
If all of these do not work, you should seek the help of a fabric couch cleaning Sydney service provider. If you need a couch cleaning service in your locality, please feel free to call Sparkle Couch Cleaning. Our experts are ready 24/7 to offer you premium services.